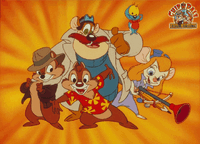 Chip and Dale, two chipmunks with a nose for trouble started a detective agency, the Rescue Rangers, along with their new friends Gadget, Monterey Jack, and Zipper. The pint-sized detectives deal with crimes that are often "too small" for the police to handle, but it's not unusual for the team's small case to tie in with the polices cases. The team usually has other animals as their clients.
The Team
The chipmunk leader of the team.
The chipmunk party dude of the team.
Monty is the muscles of the group. A male mouse.
The pilot, mechanic and inventor. A cute and beautiful female mouse.
He often handles the little, but vitally important jobs. He is a fly.
Arch Enemies